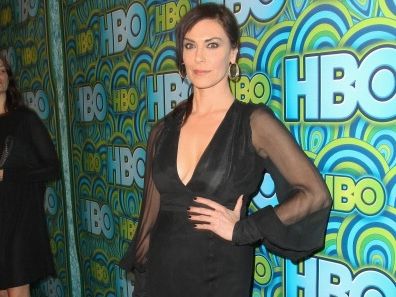 Michelle Forbes, más conocida por la mayoría como la Almirante Cain de Battlestar Galactica, ha tenido una larga y muy variada carrera. Aún hoy día, a sus 51 años, continúa danzando por platós de medio mundo de proyecto en proyecto.
A esto es a lo que se ha dedicado tras dejar atrás Galáctica:
- Añadir Perdidos a las series míticas en las que ha estado.
- Salir en Los juegos del hambre.
- Hacer las películas: The Hunters (Cazadores de sueños), Dear Sidewalk y Highland Park, todas en el mismo año.
- Protagonizar The Killing, Powers (de superhéroes/supervillanos) y actualmente Berlin Station (una serie de espías).
- Tener una participación importante en In Treatment, True Blood (con un personaje maravilloso), Durham County (aparentemente una serie canadiense muy buena) y The Returned.
- Aparecer brevemente en Orphan Black y varias series menores como Caso cerrado (Waking the dead, BBC), Blue, Chicago Fire o Rake.
- Dar voz a otros dos videojuegos (Las crónicas de Riddick y DC Online) y participar en un corto (Diplomacy).
No se ha aburrido. Lo único malo que tiene seguir a actrices tan poco conocidas es que a veces no hay quien se haga con sus trabajos, así que hay cosas que aún no he tendio la oportunidad de ver pero si encuentro algo interesante lo haré saber.